Advanced Diploma in Culinary Arts (9 Months)
Course Info
Advanced Diploma in Culinary Arts is the most detailed program where the students actually work in different cuisine of the world. Cuisines like Classic French, Spanish, Japanese, Italian and Thai will be taken throughout the program to ensure that students understand cuisines and their ideology better than just few recipes. The entire program will be based on menus representing creativity, taste and presentation. Students will be encouraged to actually work like a commi chef under a careful guidance of the chefs.
Highlights of the Course
Duration:
Monday – Friday (9:00am – 5:00pm)

Remarks:
For 36 weeks (3 weeks of theory & 33 weeks of hands-on practice in kitchen) 

Syllabus: 
Basic level, Intermediate level & Advanced level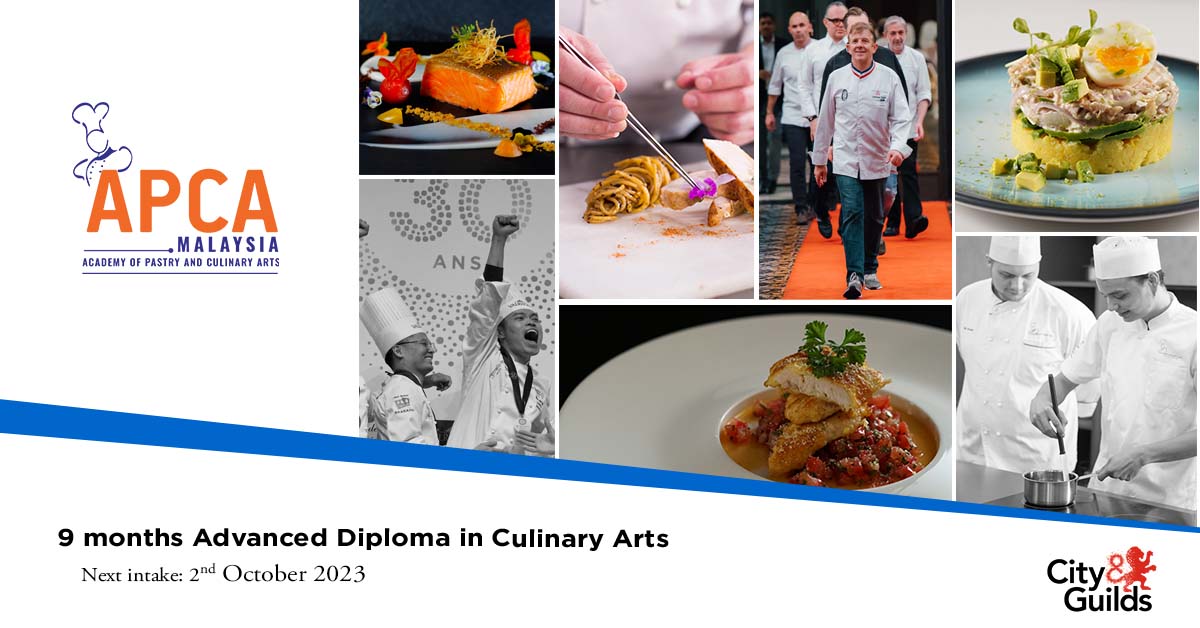 COURSE INFO
The 9 months Advance Diploma in Culinary Arts is a hands-on course and suitable for INTERMEDIATE learners.

You will not only learn the intermediate, but reach an advanced level in your Culinary skills.

You will be granted an international recognized Advanced Diploma by City & Guilds UK.
You will cover the BASIC CERTIFICATE MODULES and then learn these additional INTERMEDIATE skills and ADVANCED skills.
BASIC LEVEL
Theory - Food Hygiene & Sanitation

Knife Skill, Cutting Technique & Identification of Ingredients

Principles of Cooking

Vegetables and Potatoes

Stocks and Basic Sauces

Basic Soups

Eggs

Fish & Shell fish

Beef & Poultry

Grain and Pasta

Plated Dessert

Assessment
INTERMEDIATE LEVEL
Theory - Food Preparation & Techniques

Breads

Buffet & Staff Meals

Complex Sauces

Food Preservation and Vinaigrette

Force Meat and Process Product

Game and Lamb

Malaysian Cuisine

Thai Cuisine

Plated Dessert

Modern French Pastries

Diploma Assessment
ADVANCED LEVEL
Theory - Cost control & Menu planning

Basic Molecular and Sous Vide

Classic French Cuisine

Fusion Cuisine

Italian Cuisine

Japanese Cuisine

Tapas / Amuse Bush

Savoury Canape

Ice Cream and Gelato

Fine Dining

Plated Dessert

Advanced Diploma Examination